Imagine If You Discovered Today:

Imagine If You Discovered Today . . .

An Inspirational Prosperity Book
Imagine if you discovered today that you were always meant to live a life of prosperity. It is true, and you can learn how to become more prosperous, no matter your background, race, gender, or economic level. Despite obstacles along the way, DeVaughn Robinson was able to achieve prosperity as a professional attorney, start his own firm, and build a valuable, supportive network that fosters continued prosperity. As told through honesty and candid life experiences, Robinson inspires one to develop a prosperity mindset and to strive for excellence, wealth, and success every day.
"On the surface, it's easy to associate poverty with hunger but the world won't talk about option scarcity. While living in poverty, one's options in life become mentally scarce. The longer one dwells in poverty, the faster one's creativity and goals fade. The fading of one's goals and dreams cannot be quantified. What I do know is that as I aged while living in poverty, I felt increasingly hopeless." – Page 39
Use this book to open your eyes to the reality of divine prosperity, and how it affects every aspect of your life. Most people will make money and generate an income at some point in their lives, but only a handful of them will be prosperous in every area of life. This is the book that can inspire you to make more prosperous decisions throughout life.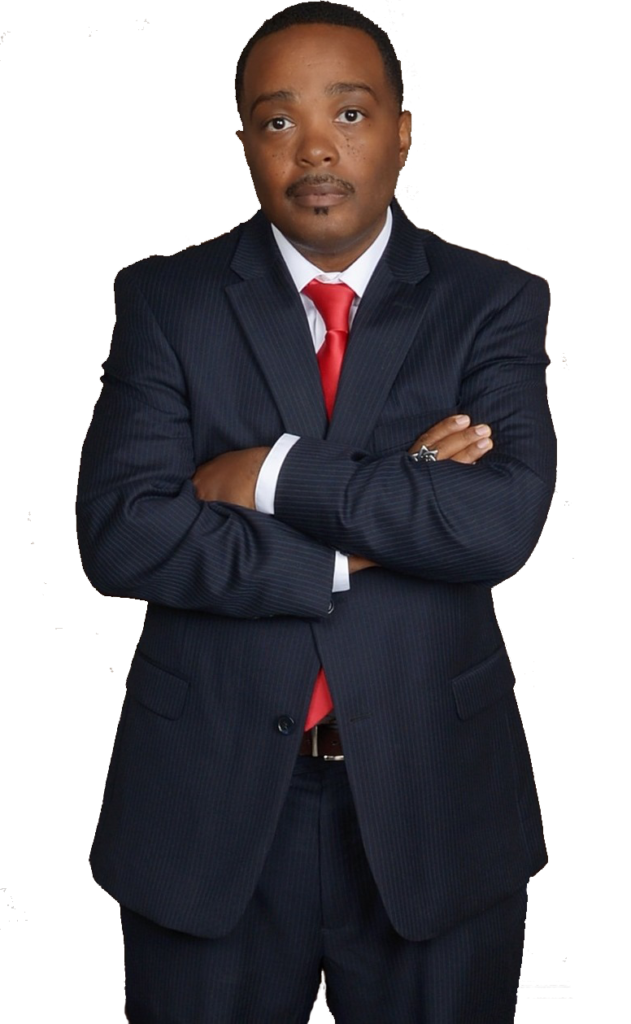 Mr. Robinson is admitted to practice before the State Bar of New Mexico and is admitted to practice in federal court before the United States District Court for the District of New Mexico serving the entire state of New Mexico. Mr. Robinson also serves as a member of the American Bar Association's Young Lawyers Division. Mr. Robinson is a member of the American Immigration Lawyers Association (AILA).
Mr. Robinson earned his law degree in 2004 from Thomas M. Cooley Law School with Litigation concentration. He participated in the 1st Year Moot Court Competition which resulted in a 5th Place Respondent Team win. While at Cooley, he was selected to the Maricopa County Public Defender's Office externship program where he served as a law clerk assisting with indigent representation of cases involving simple to complex felony matters.
Before law school, DeVaughn graduated with honors from Edinboro University of Pennsylvania where he earned his Bachelor of Arts Degree in Speech Communication. Mr. Robinson served as an Intercultural Diplomat for the Intercultural Relations Office during his enrollment. Mr. Robinson's undergraduate education he received informal educational and cultural training at Oxford University, Exeter College in Oxford, England. Mr. Robinson also received cultural and social training at the University of Zibo in China, Shangdong Province.
During Mr. Robinson's undergraduate career he was the recipient of the 1996 Ebony Excellence Award for Academic & Leadership, 1997 Ebony Excellence Award for Leadership, 1997 Anna F. Filey Study Abroad Scholarship, England, Oxford University, Exeter College, and the 1998 Ambassador Study Abroad Scholarship, University of Zibo, China. Mr. Robinson was also an active member of Chi Alpha Epsilon Honor Society. As an Edinboro University scholarship recipient and N.E.E.D Foundation scholarship recipient DeVaughn was able to gain valuable international experience that influenced his decision to join the immigration law community.
DeVaughn L. Robinson, is the managing attorney and founder of The Robinson Law Firm, PLLC. Mr. Robinson's law practice focus is family-based immigration petitions, debt negotiation & settlement and contract review.
I hope you enjoy this book, find it useful, and can create additional prosperity for you and your family.